In the business of commercial and retail, innovation is king. With a continuously evolving world comes shifting preferences and ways of life so keeping up and constantly upgrading is the only way to give customers the service that they need and deserve. The Villar Group has always been in the business of innovation and creativity and through their chain of malls, Vista Mall, the group has introduced a new breed of leisure and lifestyle malls that guarantees a world-class shopping and dining experience.
One of Vista Mall's most loved locations, Vista Mall Daang Hari is once again redefining the Vista Mall experience—guaranteeing an even better shopping and dining experience for all. The established shopping center is finally coming out-of-the-box and changing its name to SOMO – A Vista Mall.
SOMO – A Vista Mall has fully embraced the shift to outdoor shopping and dining. Its open-air concept and sprawling outdoor halls and spaces highlight the mall's impressive architecture and immaculate landscape. The experience at SOMO is a tad bit different compared to other Vista Malls since it perfectly marries shopping and dining with the refreshing outdoors. At the main mall, shops and restaurants are littered throughout the open-air halls of SOMO. While strolling, customers can feel the cool breeze and warmth of the sun as they stroll through the mall and go do their daily errands or what-nots. The whole mall is filled with natural sunlight and allows customers to enjoy the views and become more connected with their surroundings.
Customers can enjoy dining al fresco at Dear Joe, the country's first and only letter-writing café, and at the al fresco dining areas set up around SOMO. These al fresco dining areas are a welcome abode to those who prefer to savor their meals with the peaceful sounds of nature and the quiet hum of traffic passing through.
The beauty of SOMO is not only enjoyed by the residents of nearby communities but also by the employees of companies headquartered at Vista Hub Molino. The corporate center is one of the first PEZA certified IT Hubs in Bacoor and is part of the impressive SOMO complex.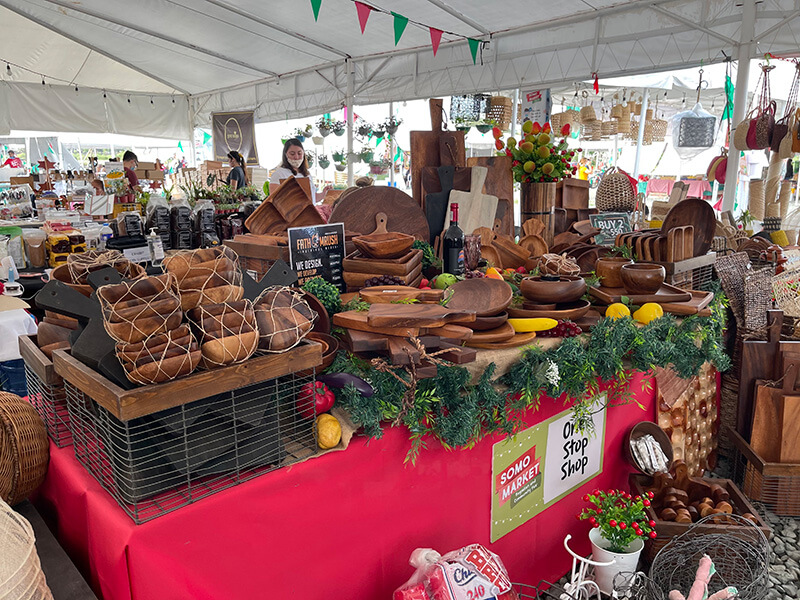 Meanwhile, at the SOMO Market along SOMO Avenue, shoppers can choose from a smorgasbord of unique trinkets, fashionable finds, fresh fruits and produce, all the way to herbs and ornamental plants. SOMO Market is also known for the mouth-watering spread of food options available to shoppers. Customers are treated to a wide variety of choice dishes from different places and different cultures. The shopping and dining experience is really unlike any other at SOMO. With a community of established brands, independent entrepreneurs and sellers, and enthusiastic buyers, SOMO is a real gem amidst the busy city life.
SOMO is a melting pot of all things unique and interesting. Its high accessibility to residents from multiple towns and cities makes it the perfect place to discover new things and adventures. SOMO, A Vista Mall, is located at the intersection of the busy Daang Hari and Molino Roads. For more information about SOMO, follow their official Facebook account at www.facebook.com/SOMOaVistaMall.