Even with the vaccine becoming more and more available, the responsibility to keep customers safe is still a challenge that every mall has to meet.
On June 26, 2021, Evia Lifestyle Center, Vista Mall's premiere flagship branch, was awarded the Safety Seal joint certification issued by the Departments of Health, Labor, Interior and Local Government, Tourism and Trade and Industry in a ceremony held at Evia Lifestyle Center, Las Piñas. This certification is a guarantee that Evia has met the minimum public health standards set by the government in managing the pandemic in aid of the reopening of the economy. The Safety Seal certifies that it is safe to navigate the new normal again in these malls, without worrying about the unnecessary risks of going out.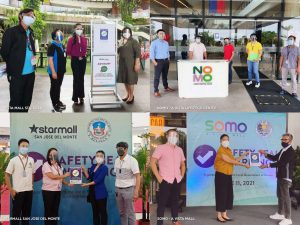 Safety seals have been awarded to Vista Malls and Starmalls nationwide since the launch of the program, and is part of their commitment to provide a safe and convenient malling experience for all their customers while they #NavigateTheNewNormal.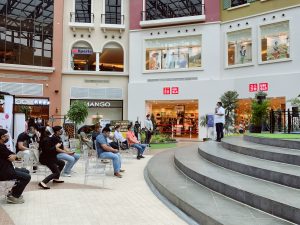 The intimate ceremony was graced by DILG LAS PIÑAS Directress – Ms. Mary Anne Planas, DTI Chief-of-Staff of the Office of the Secretary (OSec) and the Undersecretary for the Management Services Group (MSG) – Mr. Ireneo Vizmonte, DTI Assistant Secretary of the Consumer Protection Group – Mr. Ronnel Abrenica, LAS PIÑAS CITY Administrator – Rey Balagulan, LAS PIÑAS CITY BPLO Chief – Mr. Willie Gaerlan. Regional Operations Head for Vista Malls Ms. Florence Bernardo, Evia Lifestyle Center's Head for Mall Operations Engr. Dexter Perdon, and Corporate Marketing Head for Vista Malls and Starmalls Bryan San Andres.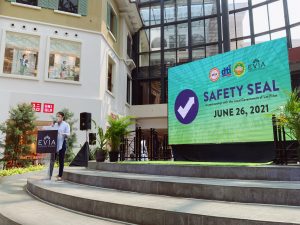 In her remarks at the event, Ms Bernardo said, "Navigating the new normal has been a challenge for everyone, and paramount in this new way of life is safety. Vista Malls has always sought to be on the forefront of implementing safety guidelines and protocols. We recognize our role as community centers, and as such, we are duty-bound to provide our community members—our beloved customers—the infallible assurance that their safety and well-being is of utmost importance to us."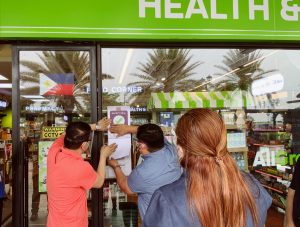 Evia Lifestyle Center is the flagship mall of the Vista Mall chain of malls, which has continuously endeavored to provide its various communities with a safe shopping environment, a must especially in the new normal. It was the most recent recipient of the joint safety certification in the Villar Group's mall network.
For more information about the many initiatives Vista Mall and Starmall are implementing as they thrive in #NavigatingTheNewNormal, visit Vista Mall's official Facebook Page at facebook.com/vistamallofficial, Starmall's official Facebook Page at facebook.com/StarmallOfficial, or through the Vista Mall website at www.vistamalls.com.ph.