Father's Day is a day of love, joy and celebration! This Sunday, June 20, 2021 to help celebrate our dads who rocked our worlds, Vista Malls and Starmalls will be having "My Dad rocks! A virtual concert and fan meet featuring Silent Sanctuary" Customers with 1000-peso worth of receipt will be given an exclusive access for the virtual fan meet, where the dads get to meet and greet the band members of Silent Sanctuary during the interactive live concert. To make it even more fun, dads get to win prizes during the virtual meet too!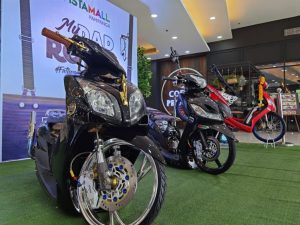 Vista Malls and Starmalls will also have a Father's Day special display featuring "Wild Ride! A Car and Motor exhibit, this weekend. Because what more could dad want on his day than to go check out some hot rides right? Definitely a perfect date for dads of all kinds!
Life might be challenging in this time of pandemic but at Vista Malls and Starmalls we made sure that all the dad's gets to feel celebrated this Father's Day! Exclusive Father's Day deals and discounts will be made available to make celebrations not just affordable but memorable.
Get a chance to win an iPad for Dad! Show off their move and their grove with "My Dad Rocks Tiktok Challenge" where the dad who rocks the most gets to win an iPad for dad! While the second and third most viewed entries will get P2,000-worth of Gift Certificates. Announcement of winners will be on June 30, 2021, 8pm on Visa Mall's Official Facebook Page.
With all that they did and with all that they continuously do, our dads deserve to be celebrated more than once a year! This dad's day make sure to make them feel most special. From being your rock and because he rocks, be proud and say it out loud! "My dad rocks!"