Vista Mall, in partnership with the Department of Health and its respective local government partners have tied up in the joint mission to hasten the vaccine roll out across the country.
In cooperation with the city and municipal governments of Las Pinas, Taguig, Dasmariñas, Tanza and Bataan, five Vista Malls across the country are now official sites for the DOH-led vaccination efforts, improving accessibility to the vaccine not only to the community at large, but for retail frontliners as well.
"With a lot of people still unsure about the vaccine and where to get it, we wanted to take steps to make it as easy as possible for people the get vaccinated. By partnering with the Department of Health and our esteemed local government partners, we want to ensure that our Vista Malls are active partners in a speedy roll out of the vaccine, which helps in achieving herd immunity for our communities," said Manny B. Villar, Chairman of the Villar Group of Companies.
"We believe that the inoculation of everyone, in this case, especially our essential workers, are key milestones on the road of our economy recovering from the impacts of Covid-19," said Camille Villar, Managing Director of the Vista Land Commercial Division.
(Senior Citizen getting the jab at Vista Mall Tanza)
"Health—and now especially the vaccine rollout—is a core personal advocacy of mine. Partnering with the DOH and our esteemed local governments to administer the vaccine is not only for us, but for every family and worker affected by the pandemic. This effort is going to be of great help in ensuring families are better protected from Covid-19. We will be announcing more Vista Malls as vaccination sites as soon as possible" she added.
With this initiative, Vista Mall continues its thrust in providing for community essentials in in the safest manner possible. This partnership also allows employees of Vista Mall tenants to get vaccinated onsite.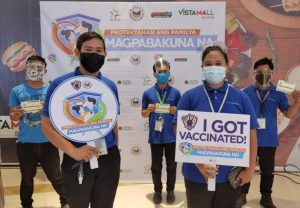 (Mall employees get vaccinated at Vista Mall Bataan)
For more information and updates about Vista Mall's efforts to support the nationwide COVID-19 vaccination program, visit their website at https://www.vistamalls.com.ph/. You may follow them on Facebook and on Instagram. Watch out for exciting content from Vista Mall on their official YouTube channel Vista Lifestyle TV.