More than a year into the COVID-19 pandemic, communities have rallied together to offer support for the less fortunate members of the community. With private donations pouring in and community pantries mushrooming everywhere, logistics became one of the biggest challenges for people who wish to donate.
To help facilitate safe and easy donations for the community, Vista Mall and Starmall has opened their doors as drop-off centers for donations. Each Vista Mall and Starmall including Vista Lifestyle centers, NOMO, and Evia, has coordinated with active community pantries to serve as beneficiaries for the donations.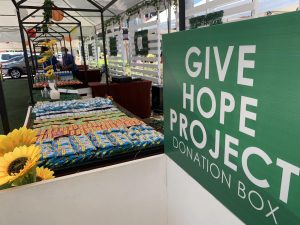 (Give Hope Project Donation Box are located at Starmalls and Vista Malls nationwide)
Customers may also bring in their donations at the Give Hope Project boxes that are prominently and conveniently displayed within the common areas of each Mall. Donors may also bring in donations at the Mall's administration office, every donation received is sanitized upon receipt and before delivery to the benefitting community pantry.
To help encourage donations, Vista Malls and Starmalls have also made donating easier by launching its personal shopper service. Customers may now shop for donations via GetAllPH from XX AM – XX PM. To keep transactions not just convenient but safe, customers may also opt to settle their bills through cashless and online methods.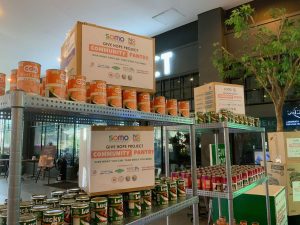 (Turnover of Community Pantry donations from SOMO – A Vista Mall and NOMO – a Vista Lifestyle Center in Bacoor)
In some locations, Vista Malls and Starmalls also hosted community pantries through the Give Hope Project with the help of in-kind donations from its tenants, employees, and Crystal Clear, a bottled water manufacturer. The Give Hope Project is the Mall's CSR Campaign that was launched last year when the country went through typhoons that resulted in massive flooding and displacement in areas like Rizal, Marikina, and Bicol region.
Throughout this time, the Villar-owned malls have been at the forefront of making sure that essential services remain available for the community, through pioneering the personal shopper service together with its subsidiaries under the AllValue umbrella.
Vista Mall and Starmall remain committed to being productive and inclusive members of society by presenting more and more ways to help in building ideal communities through offering their amenities and services.
To shop for donations through GetAll Services, simply send a message via SMS or Viber to 0915 219 0003. For more information about Vista Mall and Starmall's Give Hope Project, visit their official Facebook pages at facebook.com/vistamallofficial and facebook.com/StarmallOfficial or simply visit www.vistamalls.com.ph